St. Luke's Hospital School of Nursing Alumnae News
News should be sent to: corpussanare.sl@gmail.com by the 20th of each month; it will be posted here for 1 month on the first of the month, starting in September 2021.

Identification of alumnae, both in written news and photos, will be by first name, maiden name initial and year of graduation.
Please do not write on the backs of photos. Submissions may be edited for length and clarity.



We have no current news to post. Instead of leaving this page blank during October, we will keep the September news up for another month.


Black and white 12 1/2" x 10" copies of Dr. Tamljanovich's drawing of St. Luke's (see History of SLH or Alumnae News on the web site) are available.
Please send $5 to cover copying and postage to M's mailing address printed in the recent alumnae mailing.





Alumnae News - September 1, 2021


The reunion of alumnae from the New England states, NY and NJ scheduled for September 10 in Norwich, CT, was cancelled after New London County, of which Norwich is a part, was declared a hot spot and masks indoors were again mandated. Taking into account ages of the attendees, their underlying health conditions and break through infections, we felt it prudent to call off the event. Class members attending ranged from 1953 to 1973, with the largest number from the 1960s.


1948

Martha H. sent a note informing me that Betty Jane B., her friend and classmate, died on June 20, 2021.


1949

Loraine W. died in April 2020 of Covid complications.


1952

After 56 years living in California, Yvonne N. moved to east Texas to be close to her 2 daughters and 3 grandsons. She is happily ensconced in an independent living community with the option to move to assisted living if necessary. Yvonne says she has been forever grateful for her St. Luke's diploma.


1959

Carol (Pepper) H. called with news of her husband Jack's January 3, 2021 death. She also reported on the death of Barbara H., Pepper's former roommate at SLHSON and long-time friend. Barbara died on April 4, 2011.


Dorothy P. mailed a 12x10 copy of a drawing of St. Luke's Hospital done in 1952 by Dr. Paul Tomljanovich. The drawing was reproduced for notepaper years ago and a copy, or perhaps the original, was framed and hung outside the one-bedroom on Minturn I if I remember correctly.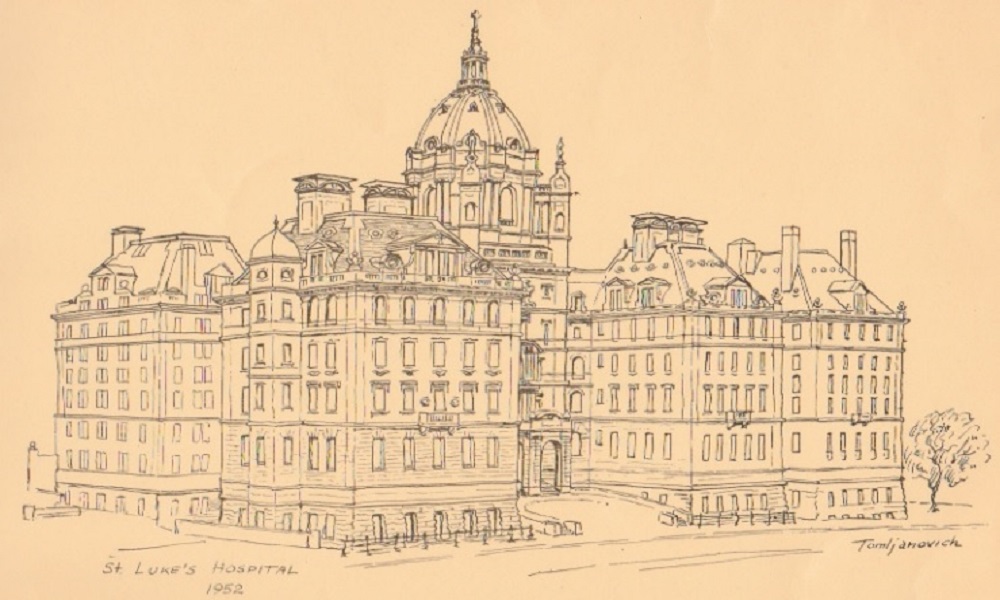 Sketch of St. Luke's Hospital, circa 1952, by Dr. Paul Tamljanovich. (Click photo to enlarge.)


On a sadder note, Dorothy's husband died in July 2020; her classmate Ruth K. died last April 20 of various health issues.


Sandra S. is of the note writing generation. I look forward to hearing from her and getting snail mail. She was delighted recently to check the last Roster and have the DVD of Evensong in the Cathedral of St. John the Devine drop out of it. Sandra reminisced about a time 60 years ago when her cousin Dick and a friend came to NYC on business; they planned to meet for dinner and Sandra asked if she could bring along Sarah G., her roommate. Dick agreed; he and Sarah hit it off famously and that was the start of a "wonderful life together, ending on Father's Day, June 20, 2021, when Dick died."


1973

Maureen D. retired this past June from her full-time position as NP/Clinical Program Director of the Bariatric Surgery Program at Dartmouth-Hitchcock Medical Center in Lebanon, NH. In August she returned to work as a certified cognitive coach for the HOBSCOTCH Institute for Cognitive Health and Well Being, the Department of Neurology Epilepsy Program at Dartmouth-Hitchcock.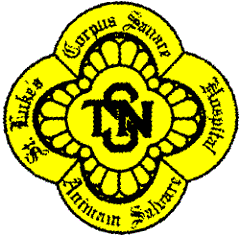 HOME